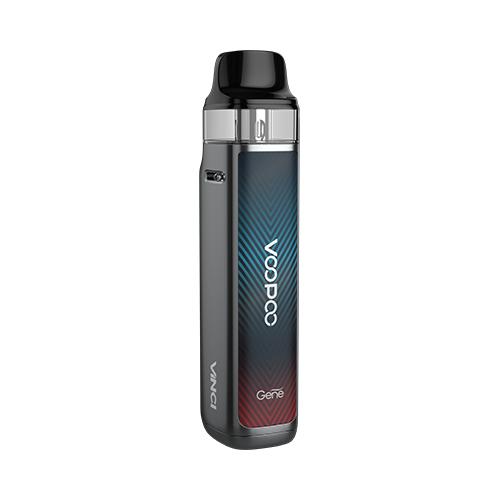 Vinci X 2 Pod Kit - Voopoo
The VooPoo Vinci X 2 Mod Pod Kit has greatly improved the feel and comfort. Appearance material is more prominent, texture and luxury coexist. The highest power 80W, let you in the visual and experience of the feast, at the same time can meet your requirements for dense smoke.
Redesigned more details to enhance the aesthetics while creating a brand new grip experience. Experience a higher degree of comfort between sucking and playing.
Vinci X 2 uses the extremely difficult "single grain, single coating" process. The light is refracted and reflected back and forth in the different textures and coatings that fit closely together, giving a bright and transparent colour effect. It also incorporates 3D heat bending technology, which enhances its durability while looking good.
The innovative infinite airflow system supports the regulation of any size of airway. You can get the most comfortable experience through this system no matter which kind of coil or different parameters are set.
The Type-C quick charger, and updated version of the 5V/2A, increases the charging speed by 50%. Compatible with Type-C charging and external 18650 single battery at the same time, let you enjoy time, do not have to worry.
With max 80W power output, Vinci X 2 enables you to make bigger flavourful clouds. Adjustable power range 5-80W is to satisfy your needs thanks to the GENE.AI 2.0 chip tailored for Vinci X 2 is more intelligent and Vapor-friendly experience than the previous generation. It also provides dual UI screens, puff record, smart and RBA mode. Smart mode automatically identifies the inserted coils and matches it with the best power, which is especially suitable for beginners. The RBA mode with no power limit can be enjoyed by professional players.
Replaceable Components
We recommend stocking these items:
Specs
Pod
Capacity: 6.5mL
Material: PCTG (plastic, BPA free)
Coil resistance: 0.3 ohm Mesh 32-40W (PnP-VM1), 0.15 ohm Mesh 60-80W (PnP-VM6)
Coil compatibility: Voopoo PnP coils
Mod
Material: zinc alloy
Output power: 5-80W
Output voltage: 3.2-4.2V
Resistance: 0.15-3.0 ohm
Battery: Single 18650 (not included)
Size
Package Content
VooPoo Vinci X 2 Device
VooPoo 6.5mL Vinci 2 Pod Cartridge
PnP-VM1 0.3 ohm Coil
PnP-VM6 0.15 ohm Coil
USB Type-C cable
User manual